How to Choose the Color of Your Prom Dress
/
Homrain
How to Choose the Color of Your Prom Dress
Unlike wedding dresses, prom dresses come in many different colors and styles! One thing to consider when shopping for a prom dress is choosing the color that suits you best. Choosing the right prom dress for your skin tone and eye color will help you stand out on prom night. In this part, we will take you have a look on the method of choosing prom dress color and the hottest prom dress color for 2023.
Determining Your Skin Tone
The first step to this daunting question of 'what color suits my skin tone' is to delete the bookmarks you made for those online quizzes based on supposedly sophisticated algorithms. Secondly, take a look at your arm. To help identify the best colors for skin tone and the core of your wardrobe, you'll need to determine whether your skin has a warm undertone, a cool undertone, or a neutral undertone. If the veins on your wrist are more blue than green, you have cool-toned skin. If they're more green, your skin is warm-toned. If it's hard to tell, you likely have a neutral skin tone. It's important to note that skin shade (i.e. pale skin, olive skin, or dark skin) don't necessarily determine your skin's undertones. A guy with dark skin can have a cool complexion, and a guy with pale skin can have a warm complexion. And all the vice-versas. Now that that's out of the way, read on for a blow-by-blow guide to finding the skin tone palette that will work best for your wardrobe.
Cool Undertones
A lot of light skin guys will also find that they have cool-toned skin, but darker skin can have a cool undertone, too. Ask yourself these questions to figure out if you have cool-toned skin. Are your veins as blue as they come? When you look in the mirror, does your skin give off a bluish undertone? Does your skin often burn in the sun? If you answered yes, chances are you're the proud owner of cool-toned skin.
What Colors Look Best On Cool Undertones?
If you've got pale skin and light features, then hues that clearly contrast with your skin tone will — quite literally — bring some color to your complexion. "I'd recommend basing your outfit around darker colors, which you can combine with lighter colors," says Selfridges personal shopper and stylist Daniel Rhone. Darker colors like grey, brown, burgundy, bottle green, navy and bolder shades of blue will all work well as these shades contrast with your skin tone. People with cool undertones generally look great in colors in the cool range of the spectrum: think purples, greens, charcoal gray and deep blues.
What Colors Should I Avoid?
People with cool undertones to their skin will want to avoid soft, pastel shades or bright colors. The same goes for neutrals; rather than white, light beige or stone, choose richer shades such as sand, camel, khaki and slate grey. "This doesn't mean you can't express yourself through color. It just means you have to mix light colors with dark ones," adds Rhone. Red, though not best suited to the ruddier, rosy-cheeked pale person, can work for more alabaster pale skin tones when worn in bold shades like crimson.
Warm Undertones
If you've got skin that tends to tan rather than toast in the sun, then you likely have what's known as a warm complexion, which suits a much wider spectrum of colors than those with fair skin or cool complexions. If your veins have greenish tones instead of blue, and your complexion is more yellowish, you probably have warm-toned skin. Guys with an olive skin color or dark skin men tend to fall into this camp, though not always.
What Colors Look Best On Warm Undertones?
While most colors will work with a warm skin tone, you can ensure you look your best by opting for shades that are either a little brighter or darker than the middle ground. What does that mean exactly? Choose pale beige rather than warm sand if you're opting for light neutrals, or try a bolder shade of purple (such as magenta) rather than mauve, for example. "I'd recommend a lighter color palette, with white being the obvious choice to accentuate your skin tone," says Rhone.
What Colors Should I Avoid?
Since your skin will likely have yellow or green undertones, it's wise to avoid wearing shades of these colors that are too close to your skin tone. What you're trying to avoid here is ending up looking nude by having your skin blend in with your clothing. Hues you should probably give the heave-ho include pistachio, mustard, olive and mocha brown. For trickier looks like all-white or pastels-on-pastels, make sure you're tanned enough (closer to black rather than green olive, if you will) to carry it off without looking washed out.
Neutral Skin Tone
Much like those with medium skin, when it comes to finding colors that suit you, guys with a neutral skin tone have won the genetic lottery and can try their hand at pretty much any hue without much need for trepidation. You likely have a neutral skin tone if it's hard to tell whether your veins are blue or green, and you can see both colors in your skin's undertone.
What Colors Look Good On Neutral-toned Skin?
The world, gentlemen, truly is your oyster. The color of your skin is perfectly positioned to marry well with the vast majority of hues and shades, as it doesn't run the risk of being washed out like comparatively pale skin tones. With that said, there are a couple of caveats. "Having a license to wear bold, bright colors like jade green or cobalt blue is great, but be mindful of adding balance to your outfit with a color that will hold the look together," advises Rhone. In practice, that means not spinning the color wheel like a mad decorator who just spent half an hour huffing chemicals in a paint shop. Instead, choose a single pop of color or two that complement rather than compete with each other.
The Hottest Prom Dress Colors for Prom 2022
The hottest prom dress colors for prom 2022 are hot pink, emerald green, and rose gold! While these three trendy hues are making a special debut on the prom popularity charts this year, some classic colors are still very popular every year, like shades of blue, red, and black.
Hot Pink/Neon Pink Dresses: Plan to stand out with a hot pink prom dress! The color is naturally attention grabbing, so there's no need to go all out with your accessories when you choose a neon pink prom dress. This bright shade is an absolute favorite of those with fair skin tones, but it also beautifully pops against dark skin tones. Don't miss the collection of hot pink prom dress at Homrain. Also, we will recommend you this one.

Emerald Green Dresses: In a deeply rich hue, emerald green prom dresses radiate elegance. This classy jewel tone looks best on those of us that have skin with cool undertones, but if you've got dark skin with warm undertones, an emerald green gown can highlight your golden undertones for a luminous look. If you are looking for emerald green one, you can have a look on this style at Homrain.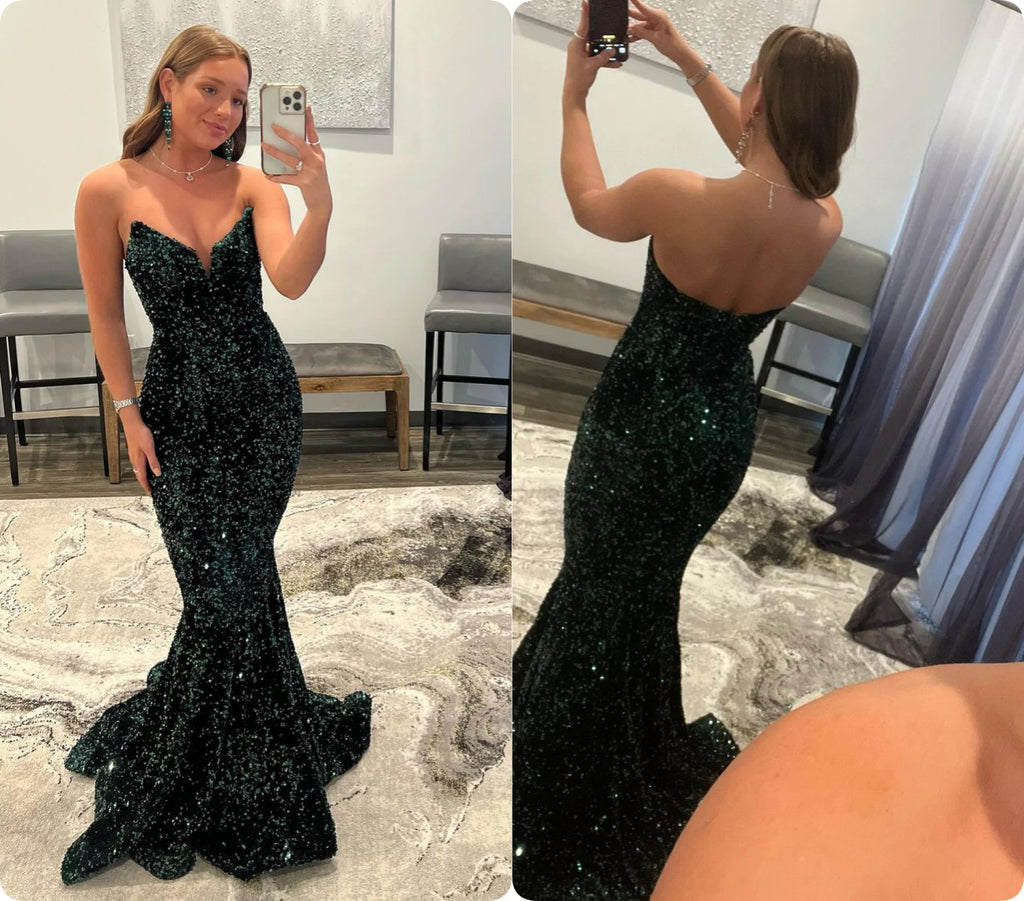 Gold Prom Dress: Whether you go for a glittering metallic style or an elegant lace design, you'll be ready to shine in a gold prom dress. A trendy twist on classic gold mixed with feminine color is a unique metallic color for prom! One of the biggest perks of this radiant hue is that it's flattering for any skin tone! For the gold prom dress, you can have a look on the collection of Gold Prom Dress at Homrain.