What You Need To Know About Prom Dress Shopping
/
Homrain
What You Need To Know About Prom Dress Shopping
One of the greatest parts of prom is picking out the dress. Before it's time to start the search for the perfect dress, take some time to plan what dresses you'd like to try. Jot down notes or add photos of different styles to your vision board. You don't need to know the exact style or color you'd like yet. You can decide when you're trying on the gowns. But first, let's talk about the best time to start prom dress shopping and other tips for deciding on your picture-perfect gown.
Going Shopping Early
Prom events happen anywhere from March to June, which means that the latest dresses for each prom season will start showing up online around October to November and in stores anywhere from December to February. Looking for your dress during these months might seem early, but you'll want time to browse through all the styles, fabrics, and colors to find the perfect dress in your size. Try to give yourself at least 2 months to shop and buy your dress before the big day. If you are having doubts about shopping so early, check out the lists below of advantages to shopping early and risks of shopping late.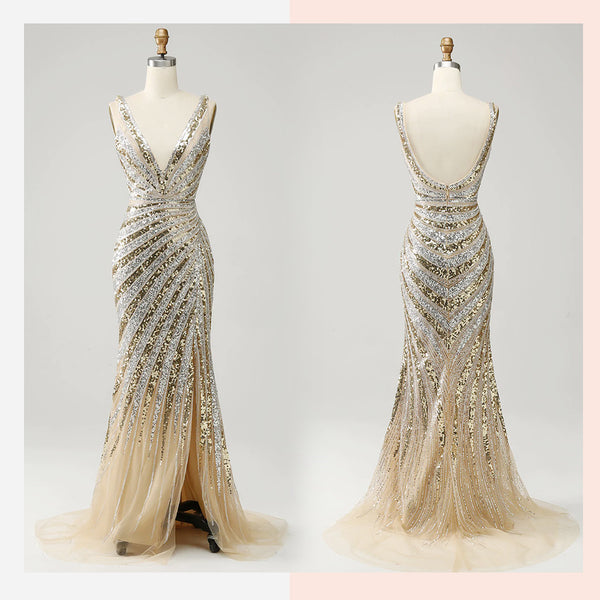 Benefits Of Early Prom Dress Shopping
Get more time to find your favorite prom dress store with the most selections and latest styles.You can have a look on Zapaka Prom Dress if you're looking online.
Avoid the rush and be the first to sift through the latest prom dress options.
If you fall in love with a style that will be a popular and trending dress, you'll be guaranteed to get your dream dress.
Register your dress and avoid not being able to get your dresses because someone else already bought the same one.
Avoid the additional charges with last-minute shopping like possible rush shipping charges.
Have time for alterations, if you need them.
Gives more time for selecting accessories, shoes, the perfect hairstyle, and makeup.
Allows you to coordinate with your date and friends.
No need to stress, you can relax and take your time to find the perfect dress.
If you have no ideas for the styles of prom dress, come here and have a look on the lastest prom dresses on Homrain.
6 Tips For Your Prom Dress Shopping
Tips one: Have an idea of the look that you are going for
This requires you to do some research prior to heading out, and will help you in your quest for the perfect dress. Print out pictures or create a specific Pinterest board with your dream dresses. This will help your sales associate pull those looks for you, as well find similar styles you may not have considered. Do not worry if you are unsure of what you are looking for. Associates are extremely skilled and will be able to help you find styles that will flatter your body type and compliment your personality.
Tips Two: Know what you are able to spend
Do not set yourself up for disaster. Be realistic and truthful with yourself when deciding on a prom dress budget. No matter your budget, there are thousands of beautiful dresses out there that fit into every price range. If you are expecting a family member to pay for a dress, make sure to discuss a budget with the person who is paying before entering a store.
Tips Three: Remember that size does not always matter
Try not to get overwhelmed or upset if you are jumping around between different sizes. Keep in mind that each Designer cuts their dresses off of a different size chart. These size charts can be different from the sizes of your regular clothes. If you wear a size 8 in jeans you may wear a size 10 or 12 in a dress, depending on the style and fabric. Remember that size is just a number. Do not let it determine your mood for your shopping trip.
Tips Four: Personal care the day of dress shopping is extremely important
If you are fresh faced and wearing mascara or lip-gloss chances are you will have a better shopping trip than someone who rolled out of bed! You want to feel as confident as possible when trying on dresses. Be sure to eat a light meal ahead of time and hydrate. Trying on dresses can be time consuming and exhausting. Save yourself from fatigue and fuel yourself ahead of time in order to maximize your energy while trying on dresses.
Tips Five: Prepare to be open minded
Many times prom shoppers may have an exact dress in mind and they are uninterested in trying on other styles. We recommend trying a variety of styles on, even if they aren't what you had pictured. An experienced sales associate will be able to pull dresses for you based on your personality that you may not have thought of trying before. Keep in mind that dresses you have researched online may look very different in person. Do not be afraid to step outside of your comfort zone when shopping. You may even surprise yourself with the choices you will make.
Tips Six: Choose your entourage wisely when prom dress shopping
Too many people may lead to too many opinions and create a tired and stressed out you. We recommend you bring one or two close friends or family members. Invite people that you know will support your decisions while also offering positive feedback about each look that you try on.
Prom 2023 is going to be here sooner than you think, so explore our 2023 Prom Dress Collection. Trust us, the sooner you plan to shop for your dress the better. We hope these prom shopping tips were helpful and we can't wait to see you in your gorgeous dresses! Remember to cherish these moments and have a fun, happy experience. We can't wait to see your prom dresses! Take pictures and enjoy the moment!